The Jeffery Group Takes You to Prosper
A new Cabo-inspired 5-acre crystal clear lagoon in Prosper, TX will be open in the spring of next year (2019). The turquoise waters of Crystal Lagoons will be the centerpiece of the Windsong Ranch community with 3 white sand beaches available only to community residents & their guests. The development in Prosper is on the North side of U.S. Highway 380 & only 2.5 miles west of the Dallas North Tollway. With homes available now & upon completion the community will consist of a total of 3,500 homes. Located at 1001 Windsong Ranch Parkway, Prosper, TX. Homes will range from the upper $200s to $1,000,000. More info after the quick video featuring the lagoon!
Video: Crystal Lagoon at Windsong Ranch
(Opening Memorial Day 2019)
Crystal Lagoons indicate that "The lagoons use 100 times fewer chemicals than traditional swimming pools and consume only 2% of the energy required by traditional pool filtration systems." This results in a crystal clear pool with activities available such as sailing, diving, kayaking, paddle boarding, wind surfing, and of course swimming. The lagoon will be up to 9 feet deep at the deepest parts of the lagoon with several shallow leisure areas. The picture from developer, Terra Verde Group, below illustrates an overview map of the 5-acre pool with more details about the community & homes following the picture.
(So exciting! Keep reading!)
Map: Overview of New Lagoon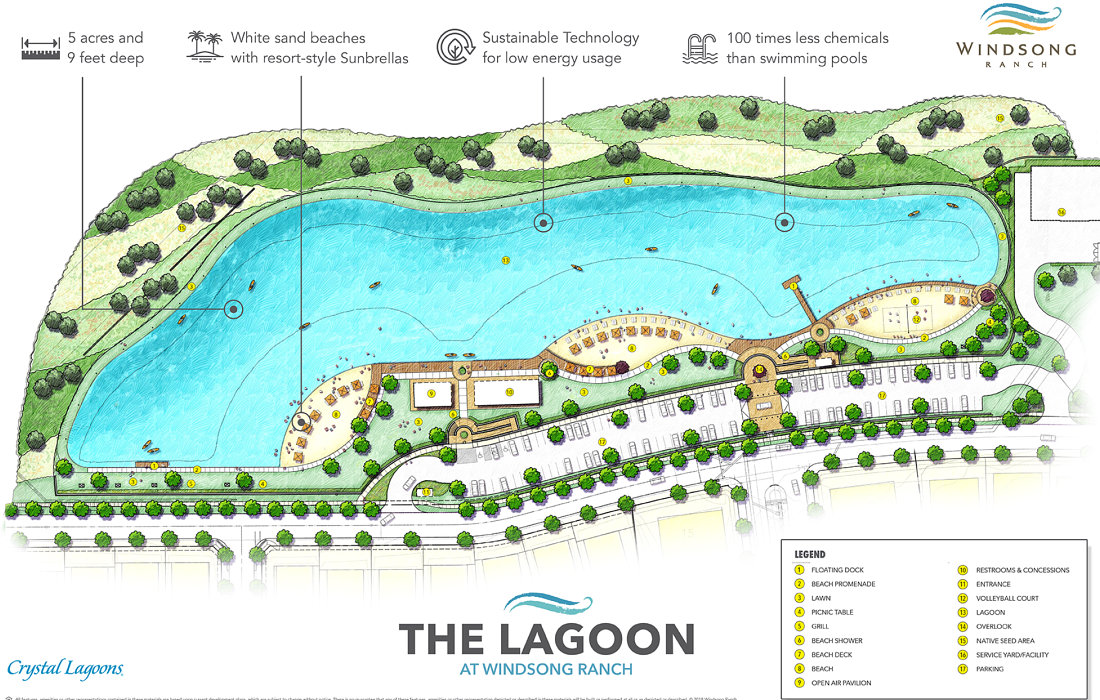 In addition to the 5-acre lagoon, the 2,000 acre community will have: a 2-acre lake, commons area, 4 unique amenity centers, 4 tennis courts, a fitness center, café with free Wi-Fi, children's play area, 4 schools, 2 fire stations, & over 600 acres of green areas/trails for hiking, biking, creeks, & parks which are essential for a healthy well-being. There are 10 home builders for the community: American Legend Homes, Britton Homes, Chesmar Homes, Darling Homes, Drees Custom Homes, Grenadier Homes Highland Homes, MainVue Homes, & Toll Brothers. There are homes available now here! Yet, click the link only when you are ready to view some of the homes after reading all the exciting details following the community master plan map photo below!
Map: Windsong Ranch Master Plan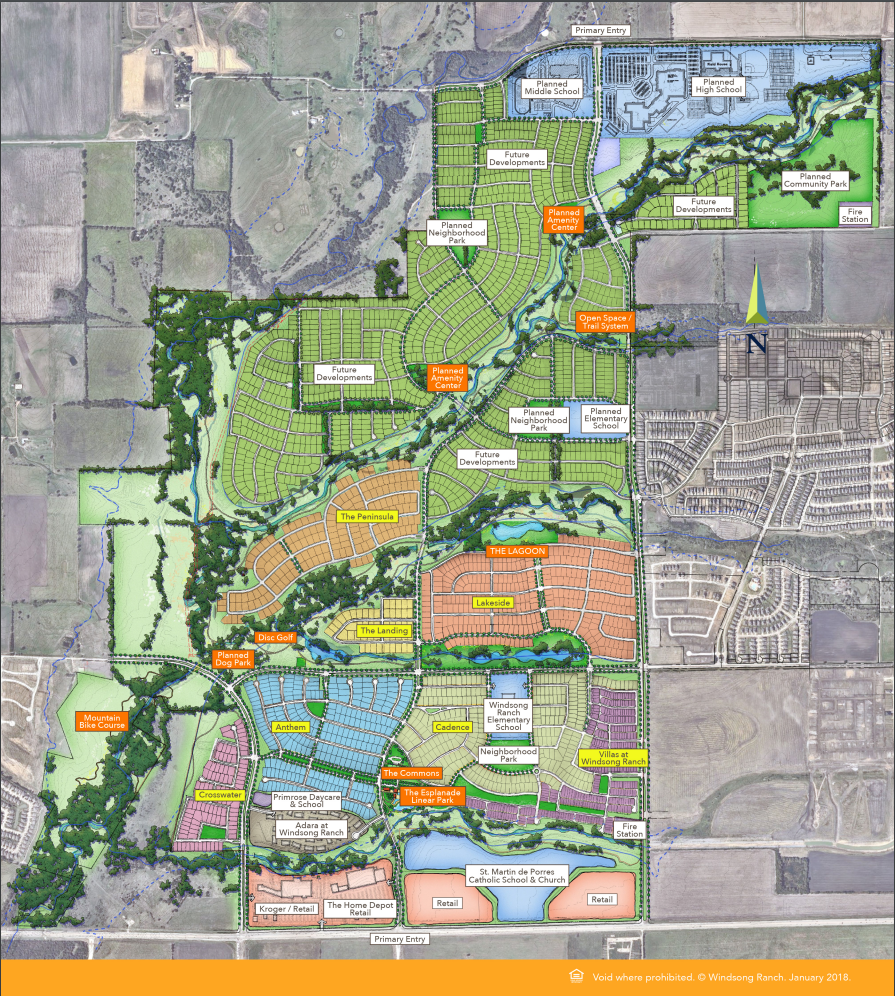 Windsong Ranch is a few minutes away from casual or fine dining hotspots, neighborhood shopping, & a new retail development anchored by a new Kroger & Home Depot in the map above. These features are just the start for this accessible area close to other great communities such as Frisco, McKinney, Allen, Plano, & 15-30 minutes from Lake Lewisville inlets as you can see in the map below. Frisco, Texas is another booming North Texas community hosting the Dallas Cowboys Practice Facility "The Star" event center which is only 5 minutes away from Prosper. Whether you're a Cowboys fan or not there are concerts & various events always happening at the event center. Check out the vicinity map below of the nearby areas.
Map: Prosper Vicinity Map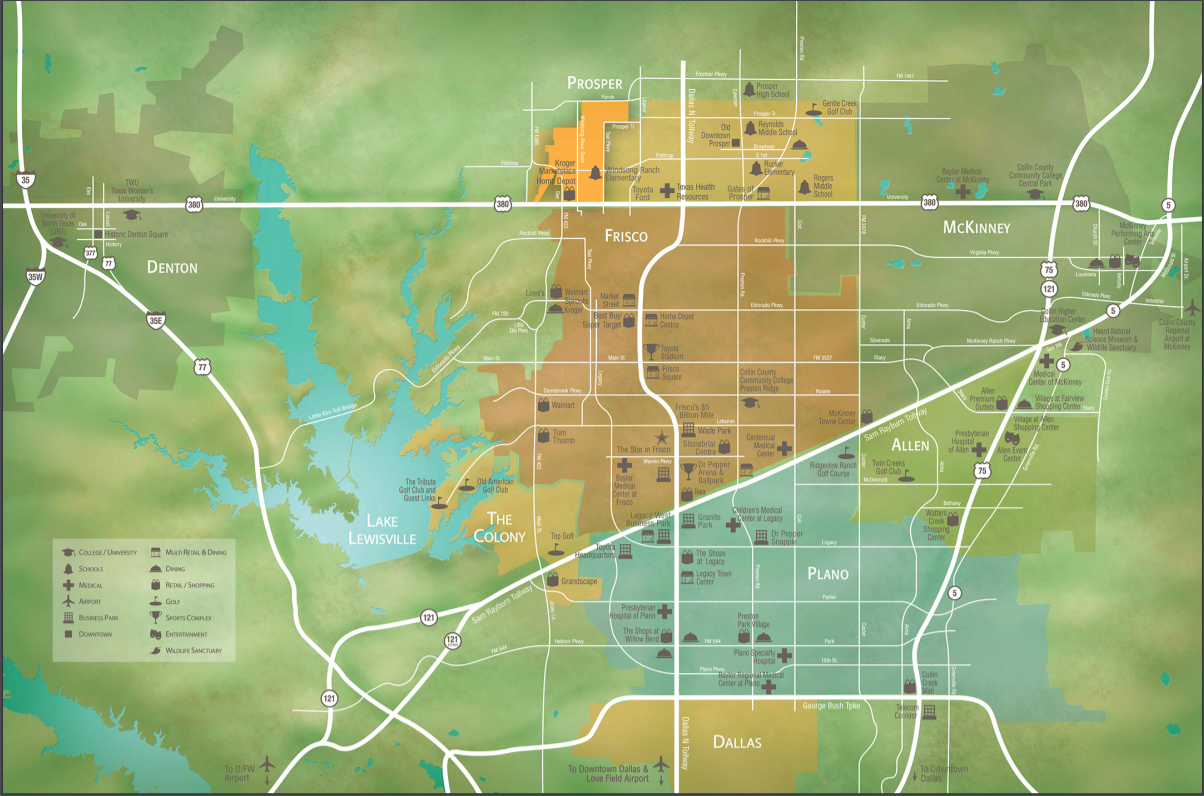 Windsong Ranch is an ideal place to live relative to the DFW metro with so many accessible areas nearby! If you would like to take a look at the community more in-depth contact us here. In addition, there is a 4 ½ minute video available here, an overview of Windsong Ranch! Don't forget The Jeffery Group is a Top Residential Real Estate Producer awarded in 2017 & 2018 by D Magazine as the "Best of Big D"! We continue to strive for excellence by attention to detail through every step of the way for our clients. We have our hand on the pulse of the community and look forward to community developments that incorporate the values that are often forgotten in today's society. This is why we bring you every new development that encompasses these core values of community, culture, & tradition.
Listings in Windsong Ranch available here through The Jeffery Group:
(https://www.thejefferygroupdfw.com/listings-search/#/391683580)
Other beautiful listings in Prosper available here through The Jeffery Group:
(https://www.thejefferygroupdfw.com/listings-search/#/-27844989)
The Jeffery Group was awarded "Best of Big D" in 2017 & 2018
For Top Residential Real Estate Producer.
More blogs about other great communities available here through The Jeffery Group

Authored by: Drew Plaza