New North Texas Lake Project
Fannin County will be getting a new reservoir, Lower Bois d'Arc Creek Reservoir, with a lake surface area of 16,641 acres, & will be the first reservoir in over 30 years to be built serving the North Texas area. The lake will yield about 108 million gallons per day & will be just slightly smaller than Cooper Lake or Jim Chapman Lake. It is expected to be complete by year 2022. Upon completion the reservoir will help provide water for portions of Hunt, Collin, Dallas, Denton, Ellis, Fannin, Kaufman, Rains, & Rockwall counties. North Texas Municipal Water District is responsible for construction of the new lake project with a map showing the layout of the project & more details below!
Map: Lower Bois d'Arc Creek Reservoir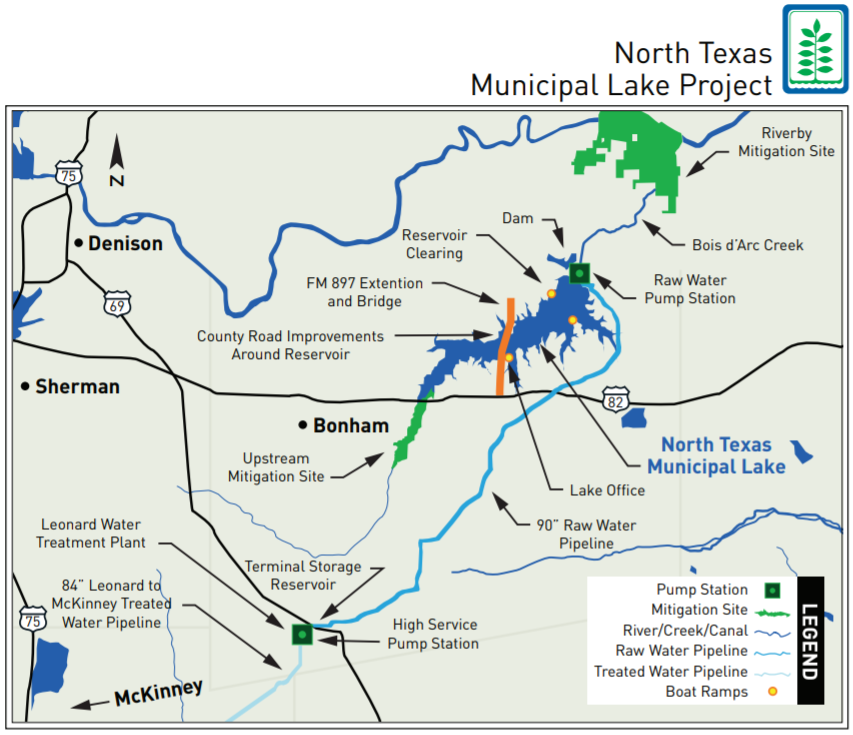 (Photo Source: North Texas Municipal Water District)
The project is receiving financial assistance from the Texas Water Development's State Water Implementation Fund for Texas, or SWIFT, and will cost an estimated $1.5 billion. Groundbreaking commenced at the end of May 2018 & 85 percent of the land has been acquired thus far. All permits have been received & approved with a Final Environmental Impact Statement developed by U.S. Army Corps of Engineers available here to read. According to the North Texas Municipal Water District, "Economic growth will accompany the development and construction of the reservoir with Fannin County projected to see a boost in taxable real estate values by an estimated $316 million." Also, they stated that recreational amenities could "generate $166 million" of annual economic impact per year in Fannin County. These economic benefits are crucial to the communities that will be served by the new lake project and contribute to the economic growth for the entire region. The forward-thinking in developing the lake project is detrimental to anticipating the future needs of North Texans. It will serve approximately 1.7 million North Texans with this population expected to double over the next 50 years. The District will also plant over 1.6 million trees, introduce 2,900 acres of herbaceous plants, & improve 40 miles of streams in the region. The water from the lake will flow to a newly planned separate water treatment plant in Leonard able to treat 70 million gallons per day which will be transported through a treated water pipeline that will extend the northern part of the regional water system serving North Texas communities.
Photo: Rendered drawing of Lower Bois d'Arc Creek Reservoir
(Photo Source: North Texas Municipal Water District)
With sustainability in-mind this new project is something that is of the highest importance when considering a long-term plan & solution to serving the future needs of continuing generations of residents in North Texas. This added element will bolster the regions resources and continue to do so for several decades to come. The Jeffery Group understands these kinds of elements that are detrimental to a sustainable future for our communities that surround us. The Jeffery Group is a Top Residential Real Estate Producer awarded in 2017 & 2018 by D Magazine as the "Best of Big D"! We continue to strive for excellence by attention to detail through every step of the way for our clients. We have our hand on the pulse of the community and look forward to community developments that incorporate the values that are important to many Americans looking for a way forward. This is why we bring you every new development that encompasses these core values of community, culture, & tradition that will continue on for generations of North Texans. Feel free to play with our free MLS listing search below to find available homes & contact us when you need ANYTHING. We are here to serve YOU!
Listings in North Texas available here through The Jeffery Group:
(https://www.thejefferygroupdfw.com/listings-search/#/-1952911716)
The Jeffery Group was awarded "Best of Big D" in 2017 & 2018
For Top Residential Real Estate Producer.
More blogs about other great communities & developments available here through The Jeffery Group

Authored by: Drew Plaza