The Jeffery Group Takes You to Lewisville
The city of Lewisville, Texas plans to make the streets of Main & Mill in Old Town a more vibrant exciting area to frequently visit with ease of access this Fall 2018. The city plans to increase the area's walkability by amending the sidewalks & crosswalks, adding bike lanes, additional on-street parking, improving landscaping with greenery, & reducing the speed limit. This is a much needed enhancement that has been a long-time coming when considering a facelift to the area has been in the city's plans for years. Now it will finally be implemented with a focus on a balance between economic growth to the area & the well-being of residents or visitors. Lewisville's Economic Development Director Nika Reinecke said "For the longest time we wanted to brand this area as an entertainment district similar to Grapevine." This brings thoughts of the complete redevelopment of Lower Greenville Avenue in Dallas which we will talk more about below as well as showing the impact with photos comparing before & after. Photo renderings of this development, more details about the plans, & comments from Director Reinecke below the photos.
Keep reading!!!
Photo: Old Town Revitalization Project Rendering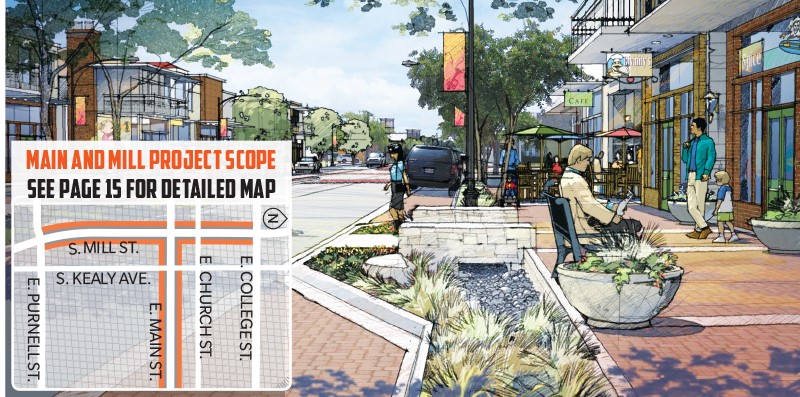 (Photo source: City of Lewisville)
Map: Rendered Layout of Development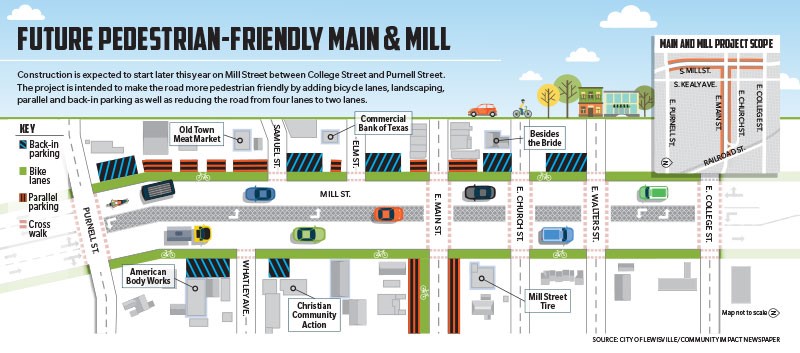 (Map source: City of Lewisville)
Through investing in infrastructure this creates opportunities for economic growth which is at the core of community planning. Director Reinecke said, "where people can safely walk & bike, retail & restaurants become more attractive to developers." She is not wrong when looking at the development of Lower Greenville Avenue in Dallas where the Saint Patrick's Day Parade is held annually. This hotspot has boomed substantially the last few years with new businesses gobbling up the opportunity of the area's improved walkability. With much success Lower Greenville Avenue has surged with new eateries, locally sourced grocers, boutiques, shops, & many more additions that make pedestrians want to come out & spend the day or night venturing around the well-lit, walkable area. This is a strong comparison to the changes coming soon for the Main & Mill area which focuses on pedestrians & their enjoyment of the area. As you can see in the two photos below, improving infrastructure is key to revitalizing areas & improving quality of life. The first photo below is Lower Greenville Avenue PREVIOUS redevelopment & the second photo shows the complete revitalization to the area AFTER the redevelopment.
Photos: Lower Greenville Avenue (Before & After Redevelopment)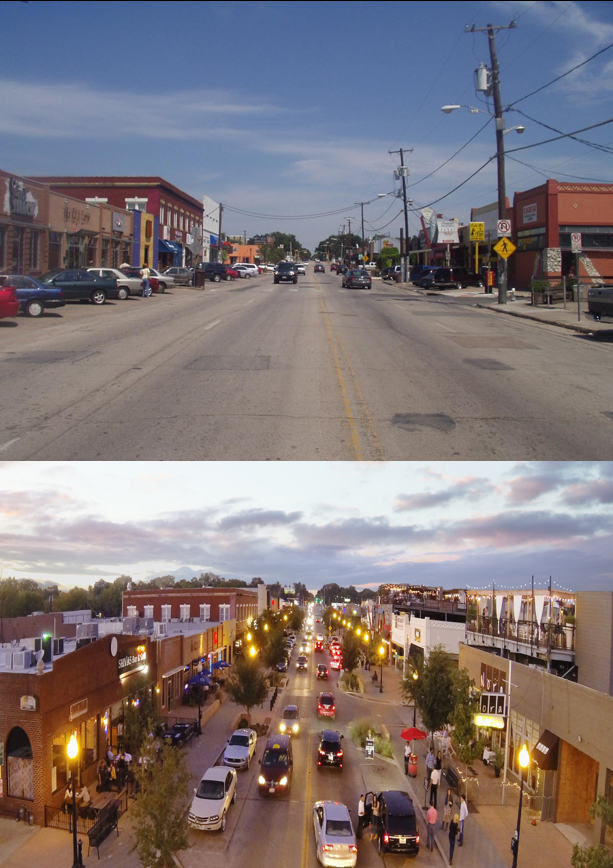 (Photo source: City of Dallas)

When looking at the imminent changes coming to Main & Mill there is an expected resurgence in the area upon completion of the project. There will be more visitors from folks within the municipality and from outside the city lines visiting & spending money within the city limits. This is great for economic growth & money well-invested in a city that is well built out. Revitalization to an area such as this is expected to see positive results with close proximity to a destination like Lake Lewisville & Lewisville Lake Environmental Learning Area (LLELA) Preserve next door. Director Reinecke said, "Streets or infrastructure is always a big part of revitalization because that's where the city can make a difference." Going on she stated, "We can put in money for public infrastructure and make it better, make it safer, make it look better, and make it more conducive to pedestrians and new businesses. And then once we have that measure in, then the private sector comes in, and they will invest in our community." She is spot-on when comparing to the positive gains Lower Greenville Avenue has seen. From a decrease in crime, according to the Dallas Police Department; to an increase in businesses investing in the area with folks coming in spending money at the places in & around the area redeveloped. Also, as mentioned before, Reinecke said that the city of Lewisville wanted to see an entertainment district similar to Historic Downtown Grapevine that has seen success with folks from all around coming out & spending their time in that area. The news of this new development in Lewisville will breathe fresh air into the Old Town area and will see a resurgence of its' own bringing great things to the city of Lewisville & its' residents. The Jeffery Group keeps its' hand on the pulse of community developments such as this one, in addition to Lewisville's new "Thrive" Multigenerational Rec Center that just broke ground recently. Lewisville has so many features that make it a great place to live with another piece of the puzzle such as this that really describes the city's vision. The Jeffery Group is a Top Residential Real Estate Producer awarded in 2017 & 2018 by D Magazine as the "Best of Big D"! We continue to strive for excellence by attention to detail through every step of the way for our clients. We have our hand on the pulse of the community and look forward to community developments that incorporate the values that are often forgotten in today's fast-paced society. This is why we bring you every new development that encompasses these core values of community, culture, & tradition. Feel free to play with our free MLS listing search below to find available homes & contact us when you need ANYTHING. We are here to serve YOU!
Listings in Lewisville available here through the Jeffery Group:
(https://www.thejefferygroupdfw.com/listings-search/#/-693657892)
The Jeffery Group was awarded "Best of Big D" in 2017 & 2018
For Top Residential Real Estate Producer.
More blogs about other great developments & communities available here through The Jeffery Group

Authored by: Drew Plaza