The Denton County Transportation Authority (DCTA) has proposed a commuter service along State Highway 121, called 'Route 70', which would run from Old Town Lewisville to Downtown McKinney! This service would link potential stops in Frisco, Plano, & The Colony with an approximate commute estimation of 40 minutes one-way via Lewisville to McKinney or vice versa. DCTA is also looking to partner with a ride-share service such as Uber or Lyft that will feature designated pick-up/drop-off zones for riders! DCTA is working with cities within Denton County & Collin County to partner on this objective for proposed stops listed below along the new route, such as the Dallas Cowboys Ford Center at the Star in Frisco.
Map: Proposed SH 121 Commuter Bus Service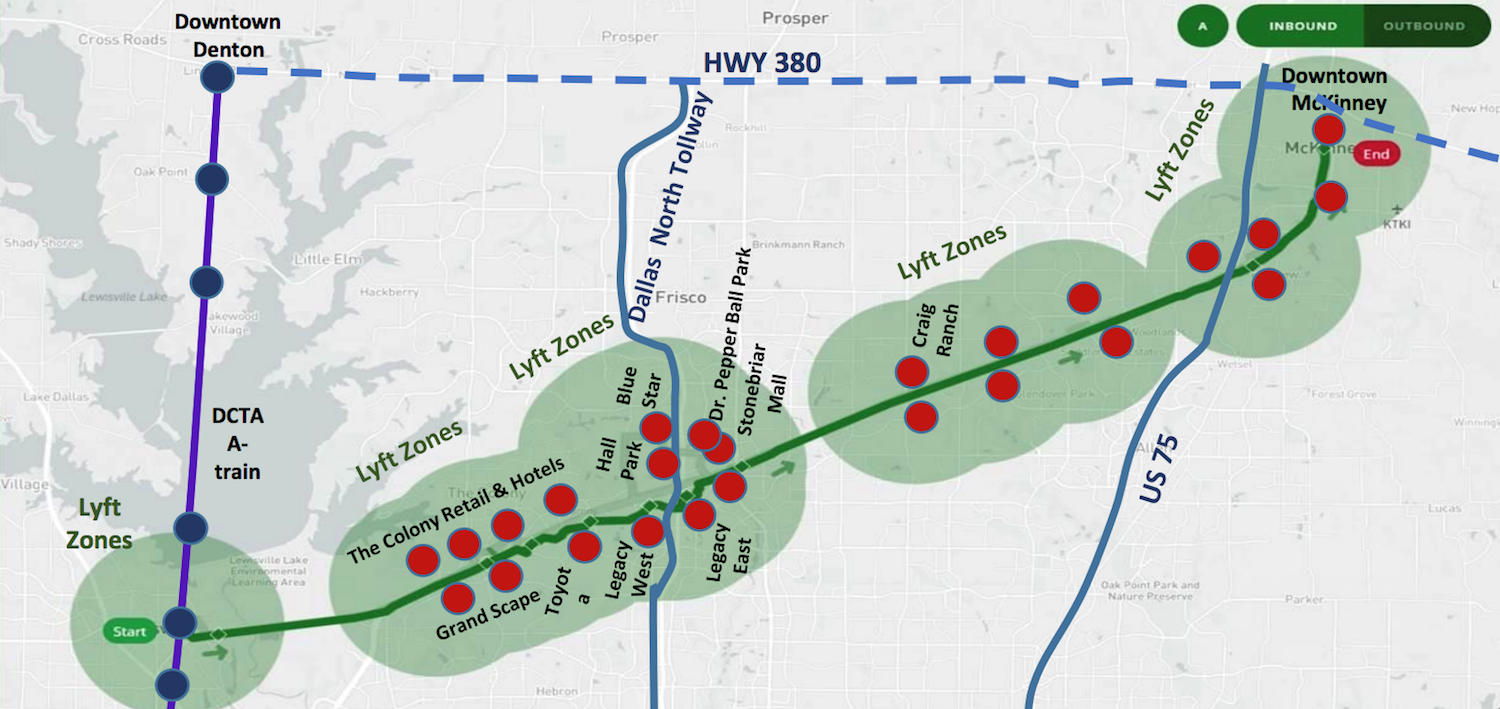 (Photo Source: DCTA)
Stated by the proposal, the service would allow for more job accessibility by bringing workers into McKinney & giving McKinney residents access to employment opportunities in Denton County. In fact, this accessible proposed transportation route will give a lot more opportunities to residents in the North Texas area to commute to & from work without worrying about traffic, tolls, car payments, insurance, etc. Through the emerging popular use of ride-sharing programs & focusing on integrating drop-off/pick-up areas along this proposed commuter service can spell tremendous success for the region. This can be an integral part of the community by providing means of transportation to many places as you can see above on the map. These places range from Frisco with: Stonebriar Mall, Preston Village, Dr Pepper Ballpark & Dr Pepper Arena, Hall Business Park, IKEA, & The Ford Center at the Star. Plano access to: Shops at Legacy & new Legacy West development, Toyota Motor North American HQ, FedEx HQ, UPS offices, Chase offices, Liberty Mutual offices, & NTT Data offices. The Colony access to: Grandscape development, Nebraska Furniture Mart, Studio Movie Grill, Top Golf, & retail areas nearby. McKinney access to: Downtown square, Collin County College, Medical City of McKinney, Sheraton, Craig Ranch, Baylor Scott & White, & the retail areas along Independence Pkwy, Custer, & Coit. Lewisville access to: Old Town city center, City hall, Witherspoon Distillery, MCL Grand Theater, Medical City of Lewisville, as well as the Main & Mill shops/retail area. Main & Mill in Lewisville will be revitalized with a new layout to promote an entertainment district, click here to see our article about this new development we posted about on August 24th, 2018. If you look at all the accessible areas stated above you can see why this is a must to push this project through & promote additional stops along the commuter route. The accessibility factor is important when looking at cities that have successful transportation systems. These cities thrive due to a fundamental component that distributes people to & from different municipalities around the area. This core element spurs economic impact in-and-around areas along the proposed route by bringing in OUTSIDE money from other municipalities which is just one of the benefits to this development. The transportation commuter route alone is a huge plus to the area providing a backbone & support system to people that inhabit the region by providing additional options to get to & from where they want or need to go.
The Jeffery Group constantly has its' eyes forward on community developments such as the ones mentioned above that incorporate the values essential to the residents within communities. The Jeffery Group is a Top Residential Real Estate Producer awarded in 2017 & 2018 by D Magazine as the "Best of Big D"! In August 2018, we were nominated by 360 West Magazine as a Top Producing Real Estate Group! We continue to strive for excellence by attention to detail through every step of the way for our clients. Feel free to use our free MLS listing search HERE & below! Use it to find available homes, or change the city option to any other city including the ones mentioned above, & contact us when you need ANYTHING or have questions about any home. We are here to serve YOU & the community!
Listings in Lewisville available here through the Jeffery Group:
(https://www.thejefferygroupdfw.com/listings-search/#/-693657892)
The Jeffery Group was awarded "Best of Big D" in 2017 & 2018
For Top Residential Real Estate Producer.

Authored by: Drew Plaza