The Jeffery Group Takes You to Frisco
US 380 & Dallas North Tollway passage will be getting a multilevel shopping center that will feature retail, office, hotel & residential units. Frisco city council approved the rezoning of 77 acres this past Tuesday 9/18/18 for the project. The area will have three distinct districts to provide a diverse yet fluid atmosphere by having a frontage district for retail, home & office; a lifestyle district that would contain retail, restaurants & a metropolitan residential tower; a southern district that would have mostly residential units, retail, hotel & some office space. The new development is valued at $2 billion & a huge win for the Frisco tax-base by bringing in a significant tax revenue stream for the city.
Photo: Rendered Graphic of Multilevel Mall Project in Frisco
(Photo Source: City of Frisco, TX)
The tax revenue from malls or retailesque developments are a huge component that contributes to the local economy. You have to consider the location as well, especially for this one. This shopping center is being built on two major roads (map site) that are extremely accessible far-and-wide from other municipalities. Those nearby municipalities have residents that WILL flock & spend their money in the city of Frisco. The whole point in city planning & allowing these types of developments is how much of an economic impact will they make for the city. The great thing about the DFW metroplex is… that IT IS exactly that, a metroplex! A metroplex with many municipalities which means many tax bases all overlapping each other creating economic impact in the area folks travel to & spend their money. This development fits right into Frisco's tax structure with yet another destination for people to visit & expend income. All of these things help out residents in Frisco by keeping property taxes from rising too high through having so many different tax revenue streams with another one added to the cash flows. The rezoning request for the development was approved with the condition that the developer, Lesso America, would begin construction on the office space, retail space & first phase of the mall before receiving a permit for the residential buildings. This is a smart move by city council to begin the economic impact of attracting people to come visit sooner rather than just building residential units first. The mall will have some Chinese home goods being brought to the American market, similar to what IKEA did when moving into town, in addition to offering non-Chinese brands. The mall will be on top of a two level parking garage with the shopping center also comprising of two levels featuring a modern design. A street through the heart of the project will be lined with retail & restaurants with a Cinemark theater being included in the interior. This whole development is just southeast of the new Cabo-inspired 5-acre crystal clear lagoon being built at Windsong Ranch opening in the Spring of 2019 in Prosper. We actually wrote an article about that development as well available here! Brief picture below of the lagoon…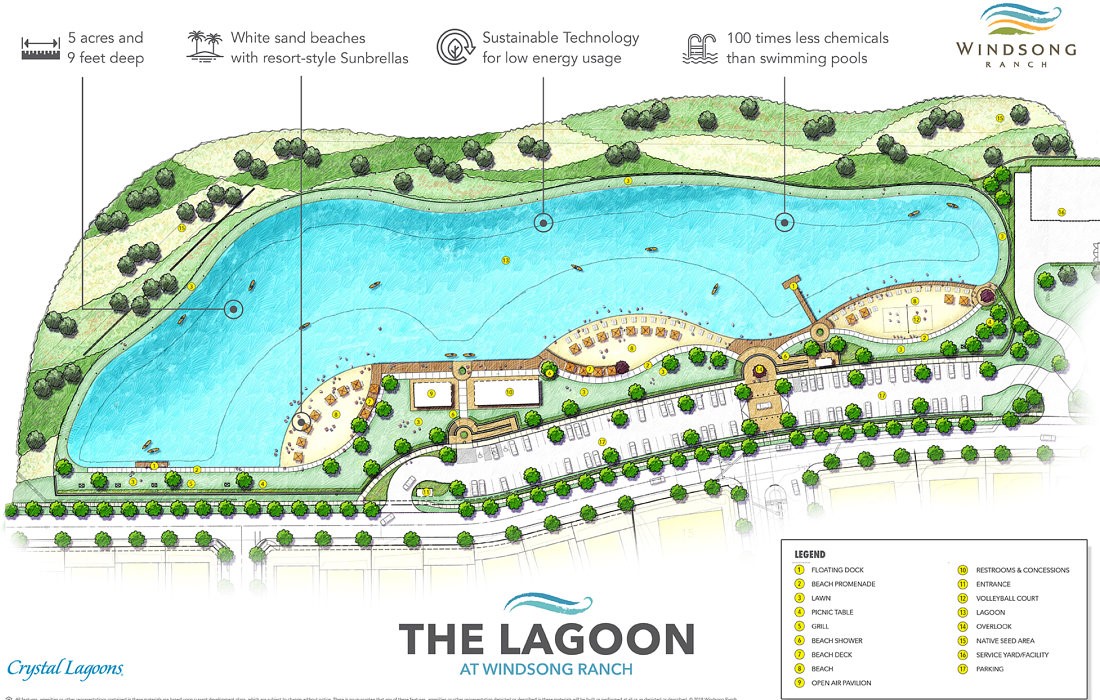 (Photo Source: Crystal Lagoons/Windsong Ranch)
This entire area on the North side of Frisco bordering Prosper is BOOMING & seeing a ton of development! It really is a great area to live without actually having to go to Dallas or Fort Worth, there are literally so many things to do in the area that make you NOT want to leave! I could list them all but I'll let you check everything you want to know about Frisco here on this link, I mean it is called "Sports City U.S.A.". The Jeffery Group constantly has its' eyes forward on community developments such as the ones mentioned above that incorporate the values essential to the residents within communities. The Jeffery Group is a Top Residential Real Estate Producer awarded in 2017 & 2018 by D Magazine as the "Best of Big D"! In August 2018, we were nominated by 360 West Magazine as a Top Producing Real Estate Group! We continue to strive for excellence by attention to detail through every step of the way for our clients. Feel free to play with our free MLS listing search below to find available homes & contact us when you need ANYTHING or have questions about any home. We are here to serve YOU & the community!
Listings in Frisco available here through the Jeffery Group:
(https://www.thejefferygroupdfw.com/listings-search/#/-148821546)
The Jeffery Group was awarded "Best of Big D" in 2017 & 2018
For Top Residential Real Estate Producer.

Authored by: Drew Plaza