The Jeffery Group Takes You to Plano
Plano is taking a piece out of the Downtown Dallas playbook envisioning a deck park similar to the successful Klyde Warren Park. Plano's master plan for its' parks & recreation department was approved recently, which consisted of several recommendations including a deck park connecting the Shops at Legacy & the new Legacy West development. Connecting these two major mixed-use developments would "create usable park space and create safer pedestrian connections in a highly developed area" according to the master plan. This area has seen a surge in foot-traffic & economic activity which gave way to brainstorming concepts to make the two developments more accessible literally 'bridging' them together with a more pedestrian-friendly crossing. There is no doubt that this area needs to be enhanced to help facilitate & promote a more walkable area with the numerous offices, business, and shops in the vicinity.
Photo: Rendered Drawing of Deck Park on Legacy & Dallas North Tollway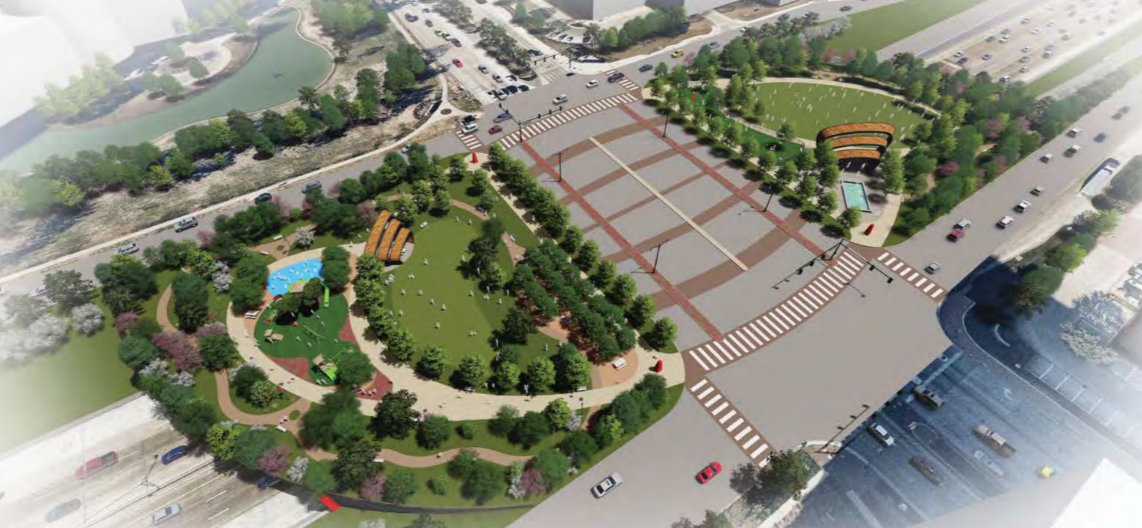 (Photo Source: City of Plano)
Plano is home to many company headquarters & offices with several just blocks away from both of these developments. The installment of Legacy West has essentially doubled the amount of activity in the immediate area while currently still expanding construction on the West side. It's not just citizens from also people from surrounding municipalities that flock to this area to enjoy a day or evening out. Folks spend their hard-earned money at the shops, restaurants, boutiques, cafes, and many other business that thrive in this area. Bridging the two together will require funding but an investment from the city could pay dividends to the city & help taxpayers in the future. This type of attraction draws people in from other municipalities, meaning other tax payers (Not Plano), spending their money in the city of Plano. The great thing about North Texas, specifically the DFW area, is that there are many different tax bases because there are so many cities nearby. This promotes economic growth across the board, especially when there are places of interest that people visit & frequently hang about due to positive reviews in the news or Yelp. This kind of project might be the ultimate missing piece for these two big developments & could solidify this area as a tax revenue stream for decades. This was definitely the biggest eye-turner in the master plan, but also important is that the city of Plano recognizes a lack of green spaces as this will not be the only one in their arsenal going forward. Plano plans to improve green spaces by renovating current parks, trails, and recreational facilities as well as adding new areas. These new areas can range from several different park concepts with a focus on senior citizens by expanding recreational opportunities, a focus on neighborhoods nearby & amenities desired, possibility of skate parks, and adding new trails for connectivity to other trails expanding the trail system. The new master plan is comprehensive with 260 pages of information & pictures available here, also mentioning a pedestrian bridge near Downtown Plano that crosses over Highway 75. Big stuff is in the works for the city of Plano that is rated as one of the top cities among others to live within North Texas as they plan for the future & sustainability for their inhabitants. We are always staying updated with any new developments or projects affecting the social engagement within the community & we are happy to bring you this information as it develops. Our Group, The Jeffery Group, is a Top Residential Real Estate Producer awarded in 2017 & 2018 by D Magazine as the "Best of Big D"! In August 2018, we were nominated by 360 West Magazine as a Top Producing Real Estate Group! Just recently we became a Certified Luxury Home Marketing Specialist (CLHMS) by consistently performing in the top 10% of our residential markets in the DFW area. We continue to strive for excellence by attention to detail through every step of the way for our clients. Feel free to play with our free MLS listing search below to find available homes & contact us when you need ANYTHING or have questions about any home. We are here to serve YOU & the community!
Listings in Plano available here through the Jeffery Group:
(https://www.thejefferygroupdfw.com/listings-search/#/-411394062)
The Jeffery Group was awarded "Best of Big D" in 2017 & 2018
For Top Residential Real Estate Producer.
More blogs about other great developments, events, & communities available here through The Jeffery Group

Authored by: Drew Plaza