The Jeffery Group Takes You to Lewisville
Mary Kay celebrated opening the new Richard R. Rogers Global Manufacturing and R&D facility in Lewisville, Texas on November 1st, 2018 that is expected to house 700 manufacturing jobs & 100 corporate jobs. This is an essential relocation of departments from the Regal Row location with a majority of the current 500 employees moving over, however the new facility will offer hundreds of new job opportunities as the new laboratories are 50% larger than the previous location. The city of Lewisville worked with Mary Kay to deliver the new facility by waiving 75% of the company's building permit fees & all of its water and sewer impact fees as well as a 90% rebate on inventory taxes for 10 years. In return, Mary Kay will maintain at the very minimum 500 workers, not hire any undocumented workers, and the median wage of its employees must be at least $45,000. Additionally, the company has pledged to invest $15,000 per year toward community activities & charity events as well as helping the city build an entrepreneurial center.
Photo: New Mary Kay Facility Front in Lewisville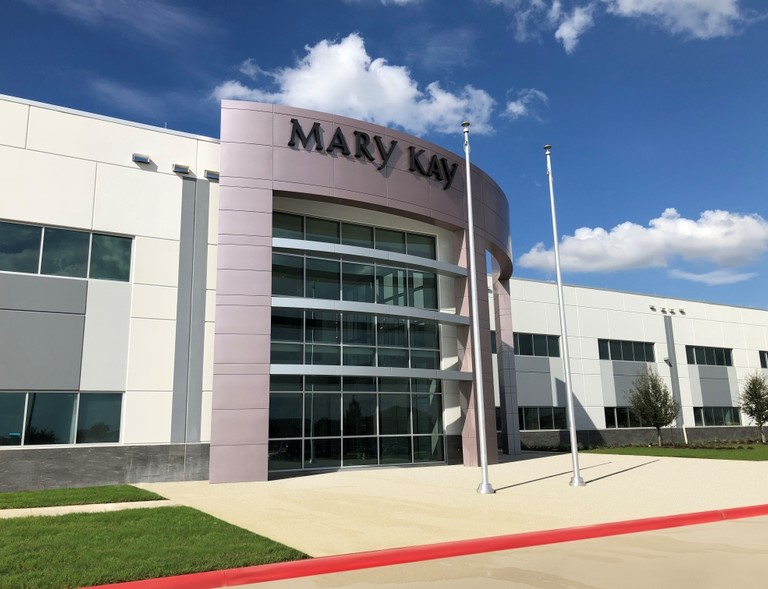 (Photo Source: Mary Kay/Roll with it)
According to Mary Kay's website, "the 453,000-square-foot building features state-of-the-art R&D laboratories and cutting-edge manufacturing technology and will function as a Zero Waste to Landfill facility". Mary Kay announced a 10 year partnership with Lewisville ISD to offer an entrepreneurial curriculum for Lewisville High School. On Mary Kay's press release they indicated the use of "nationally renowned Incubatoredu curriculum, students will learn business concepts while local business leaders provide coaching and mentoring". There is no question the North Texas region has been a job magnet with this being another piece to the puzzle of how the DFW area is defying the national trend of residential real estate price increases & quality of starter homes declining. The DFW trend is far from the national average with a "local median home price of $356,999 rising just 0.5% year over year" compared to a "national average increase of 4.6% from 2017 to 2018", according to the Dallas Business Journal. The DFW metroplex has one of the highest wage growth & job growth in the country with a booming economy. The infrastructure in the metroplex supports a sustainable & comfortable living with several different tax bases, corporations, headquarters, & businesses locally supporting economic growth which benefits the housing market. The demand from job growth in the DFW area is what's driving the housing market to stay below the national average in price increases & above the quality of homes. The Mary Kay facility opening in Lewisville is just another example of the economic development in the region's laundry list of companies offering job opportunities. This notion gives homeowners or future homeowners more flexibility when considering their options to buy or sell in the area. Rather if you reside in Lewisville or other neighboring cities, folks are migrating and moving around with this growing economy. When it comes to having someone that knows the area, The Jeffery Group is constantly engaged with what is happening in communities around the DFW area. Check out our Facebook posts here, similar to this one focused on the backbone of what makes an area thrive…Ranging from new developments, events, social engagements, or community involvement; we make sure we are bringing it to you through various channels. Knowledge is power & we are happy to guide you on your journey. Our Group, The Jeffery Group, is a Top Residential Real Estate Producer awarded in 2017 & 2018 by D Magazine as the "Best of Big D"! In August 2018, we were nominated by 360 West Magazine as a Top Producing Real Estate Group! Just recently we became a Certified Luxury Home Marketing Specialist (CLHMS) by consistently performing in the top 10% of our residential markets in the DFW area. We continue to strive for excellence by attention to detail through every step of the way for our clients. Feel free to play with our free MLS listing search below to find available homes & contact us when you need ANYTHING or have questions about any home. We are here to serve YOU & the community!
Listings in Lewisville available here through the Jeffery Group:
(https://www.thejefferygroupdfw.com/listings-search/#/-1517601964)
The Jeffery Group was awarded "Best of Big D" in 2017 & 2018
For Top Residential Real Estate Producer.
More blogs about other great developments, events, & communities available here through The Jeffery Group

Authored by: Drew Plaza